This has been a quiet week, mostly getting some rhythm going
on the wheel. It always seems to take a while to get my mind and body on the same page and keep out the distractions that life brings.
   Sadly, a quiet week is still busier than I'd prefer…this week's list included visiting my surgeon for a check-up, a farewell party for
Anna Branner
, picking apples in preparation for this year's cider making, testing soil on the farm for next year's garden, and spending a bit more time with my chainsaw. Imagine the pots a man could make as a hermit! 
    Why is it that as much as I enjoy throwing, I have to work myself up to begin?  It is always useful to start with something old and comfortable, and I have been making these oversized pie dishes for more than 30 years. They just about make themselves, they are fun to comb, and I love pie. But then, you know that by now. And if you are going to make a pie, a standard 9″ is hardly worth the effort, so bigger, in this case, is better. They also make a helluva quiche…I use a grated potato crust that is tasty…
    I always think of Eddie Hopkins when I make jugs…and Ray Finch…and, added to that list now is
Doug Fitch
. I think of my belly when I make a pie dish…
'1/2 gallon jugs'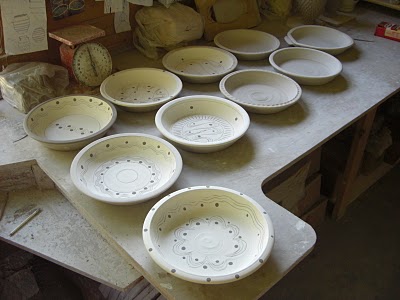 pie dishes
I know that I promised to leave the birds out of this for now, but they keep happening even as I get back to 'honest pots'. The two with handles are also jugs with a stopper on the top for filling and beaks for pouring, I know not how well. There are also some bowls happening now, but honest, I'm getting over this 'avian' flu!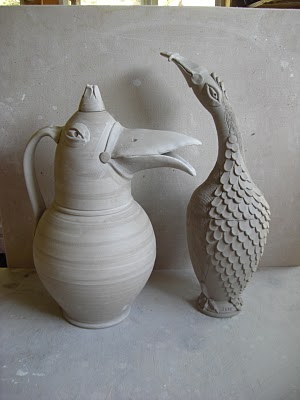 'Yaz' and 'Zeke'
'Agnes' and 'Xavier'

It is always flattering when a new follower joins up here at blog central. I recently lost one, though, and I'm not sure what to make of that.