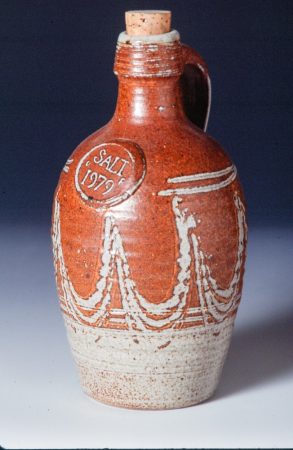 I made this pot in the autumn of 1979 as I was winding up my time at the Winchcombe Pottery. That was 40 years ago, an impossible concept to comprehend. Exactly 39 years ago this week I arrived in Fredericksburg to become the manager of the Fredericksburg Pottery and I still call 'the 'Burg' my home today. It is a community that I came to love and it has been very fertile ground for my creative endeavors.
It's hard to imagine how different the town was that September…2 out of every three storefronts were empty and no one lived above the shops. I started a wholesale business because there just wasn't enough trade in town, but over the years as Fredericksburg was 'discovered' again my business grew and eventually I sold all of my work from the storefront downtown.
Of course, there are legions of tales I could tell about those early days, from dancing on the bar at Sammy' T's to building an art center (Libertytown), but I don't need to go there just now. It's just that I am looking out over the mountains here at the Penland School of Craft as I write, feeling nostalgic for my adopted home.
This is also the 39th anniversary of my dear mother's passing. I arrived in Fredericksburg that year with a very heavy heart and my memories of those days are always tinged with a little sadness.
My mom was a simple soul, but full of wisdom. I asked her once what she thought of my pottery infatuation…she replied that she had no idea what it was I was doing, but if I thought it was the right thing than she was all for it. That was a gift. It's important to have people who believe in you.
I'm feeling out of practice as a writer of blogs. I know this is somewhat random.