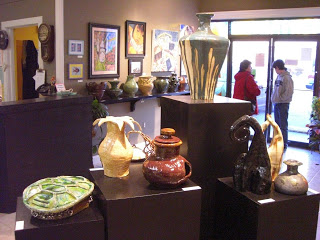 Another First Friday means another exhibition opening at LibertyTown and last night's event was wonderful. This is the 4th year we've invited the young artists of Fredericksburg to show in our gallery and each year it gets better.
(Bill Harris curates this one. There was a time I thought of him as a 'young artist"!)
Originally it was intended to be a show for college students, but we've found more enthusiasm from high school and even middle school kids and now we welcome them all. It's great to see all the families who come and support the young artists. Lots of positive energy all evening long. We had more than 400 visitors!
I love the big handbuilt pots that come from Carter Corbin's students and there are some great fish from Mirinda Reynolds' class inspired by Neal Reed.
(how's that for name dropping?)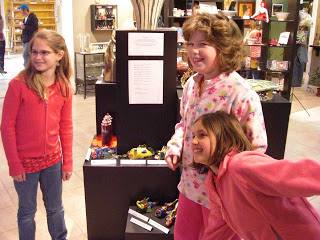 I'm not sure if I've introduced Miss Moneypenny, but here she is in all her athletic glory. She somehow gets atop the door and sits perched for quite some time. It's a lot warmer there as the ceilings are low. I think of 'Snoopy' as the vulture…waiting for unsuspecting prey. Johnny Johnson's painting in the background.