Mighty busy these last few days: meeting with city officials all week hoping to get some support for LibertyTown, First Friday opening reception, Bowl-o-rama Saturday (we make bowls at LibertyTown for Empty Bowls), new helper Jason arrived Saturday evening to move in to his new digs, 
late night playoff games courtesy of my wonderful DVR
 and today we've been eating brunch and drinking tea and touring the town. So my default blog subject remains old work.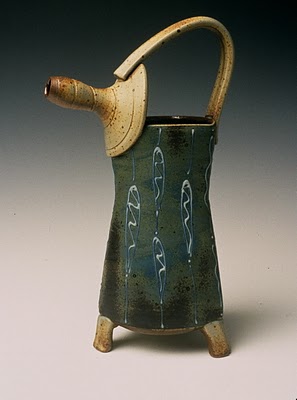 3 legged watering can.
 I lost my mind for a few years back in the early '90's and did my best to explore ideas outside of the tradition that has usually guided me. Colored slips brushed and trailed, matt glazes that were usually sprayed, thrown and altered forms with lots of exaggerated parts.  Fun to make and easy to get attention, I eventually returned to the brown pots I know and love.
3 legged something or other.