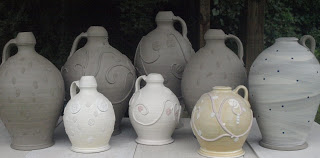 I've been getting a few hours each day in the studio and I'm all over the place with these bottles. I've spent 30 years making 'domestic' ware… a great term for pots that belong on the table and in the kitchen. Now I'm stretching out in scale while at the same time looking for new surfaces and decoration that will work in my wood/salt kiln. A lot of the sprigging is taken from old German salt glaze, but as you'll see below, I'm trying to add my own new twists to this old idea.

This is a 6 tile slip brushed on the wet pot. Later I pressed little flower-shaped cobalt beads into the surface.


I carved this face with the idea of using it on the neck as is customary. I'm such a bad carver but I really like it's primitive nature. I was about to add a bunch of leaves to this pot when it struck me that this might be funny/shocking/curious.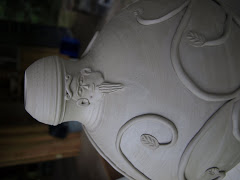 I didn't mean to turn this guy into a devil, but that's what happened!