The summer is flying by and the best I can say about the weather is…it's not as bad as it could be! I famously despise the heat (what would you expect from a boy from Buffalo, NY?) and I continue to imagine myself picking plums in England. Still, I am getting out to the studio early when I can and the pedestaled bowls here are some of the fruits of that labor. I'd like to make some giant ones, but I may wait until I've put these through a firing. I worry about them warping.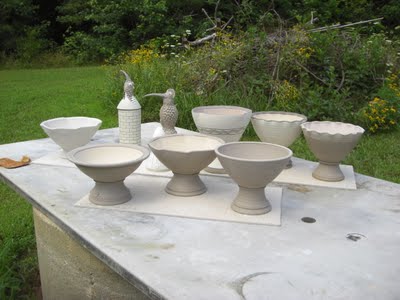 You can also see a bird on a pot that hopefully looks like a silo..I'm going to play with a series of birds in/on architectural forms. I've been putting feathers on a batch of wee ones while watching the women's World Cup…fantastic competition!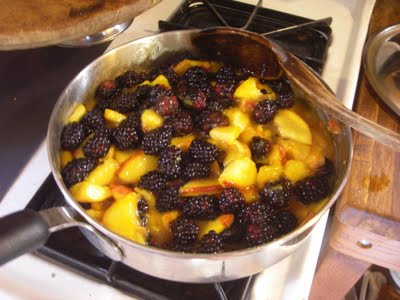 peaches and blackberries…m-m-m-m-m
The summer bounty of produce is wonderful. I took Jason, Beth and Lucy to visit with Warren Frederick and Catherine White and joined them for the beautiful lunch you see below. A beautiful country home and studio, stimulating conversation and a very warm welcome made for a lovely day. Our pots and aesthetics couldn't be different, but how great is it that pottery can be so diverse and inclusive at the same time. Lots of food for thought.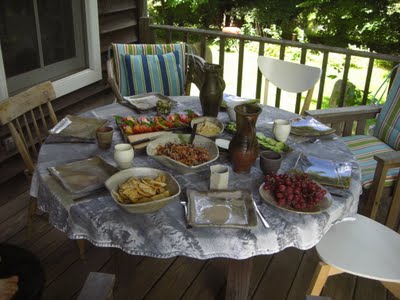 lunch at Warren and Catherine's
I continue to be be amazed at the mentality that is still fighting a war that ended 150 years ago. The losers never let it go!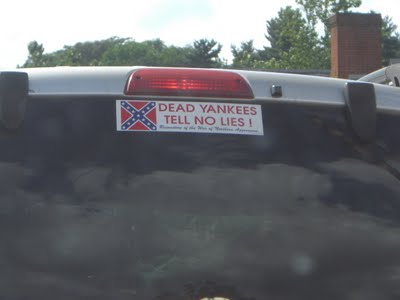 only in Virginia…
If you are following this here blog in North Carolina you might get a visit from Jason Hartsoe, my assistant, and Lucy Bresson, his friend from France via Ireland. They are both keen young potters and I'm sure that they will find a warm welcome.