My studio is in the far corner of a 65 acre country property and blackberries might just be the biggest crop that we harvest every year. They have become my favorites of all the berries (including Chuck and Halle).  Bright pink smoothies and blackberry crumble or blackberry jam with bay leaf – m-m-m-! And corn and tomatoes are on the cusp!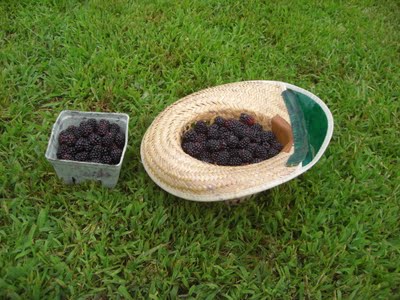 After some frantic months I am finding a little time to get back to the studio. Last time I started a making cycle I was overexcited about making birds. They were new and unknown. I still find them interesting and I will continue to make them for a while, but some of the bloom is off the rose. It's working out the 'problems' of a new idea that get me most excited…now it's time to refine and push some of the things I've explored. It is a different energy. 
All that is a long way to say that I haven't quite wrapped my brain around a master plan for firing #11…I've made a list of the usual suspects to make and I know that birds will be in the mix (I'm making a bunch of wee ones at the moment) but I don't have an overarching plan/theme yet. It leaves me a bit uncertain at the wheel. 
This is not an unusual state for me to be in. I like a good plan. Years ago I used to try and (like the old Communist Party) have a five year plan.  Sometimes it just takes a few days on the wheel for a path to be revealed. Meanwhile, it is a certain act of faith that takes me out to the studio these days. Waiting for illumination…