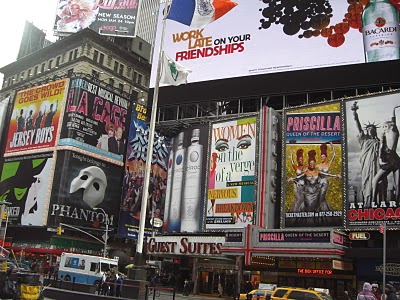 Times Square
I'm still a bit worn out from my trip and still reveling in the glow of big city life. As much as I love my small town I am always energized by a visit to any city of note, I love the energy, the cultural life, the food(!), the architecture and the people watching.
I took the train from the 'Burg to Penn station and then walked from there to Times Square and on to THE POD, the funky hotel I stayed in. Tiny rooms nicely furnished and a fair price. I then took the subway uptown to the New York Ceramics fair.
 After an interesting visit there I started walking…across to Central Park and then a visit to The Plaza Hotel. I thought I might have afternoon tea there, but at $45.00 per person…I kept walking..
Tea room at The Plaza
 That evening I saw the Broadway play 'Lombardi' at the Circle in the Square Theater… I love theater, and I love football, but this was not a particularly good play. Fun to sit in the second row in a theater in the round, but it's not good when the stage is more interesting than the play itself.
Walking back to the Pod late night took me past Rockefeller Center and Radio City and the famous ice rink at 30 Rock. Fantastic art deco buildings!
 I spent all day Friday at the Met (the Metropolitan Museum of Art). A fabulous day filled with pots everywhere. I'll write a separate post on that later this week.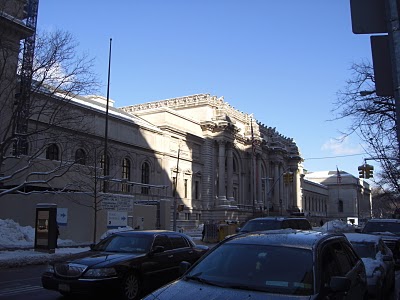 The Met
What about food, you ask?  Felafel, pizza, mushroom ravioli, sunflower bagel and cream cheese and a couple dozen bagels to bring home. Hard not be a glutton there, but walking keeps the appetite up!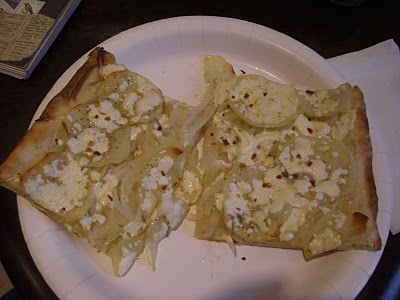 Obligatory pizza shot
 The highlight of my stay was spending Friday evening with my adorable niece Courtney and her boyfriend Matt…we had a great meal and then went on to see the musical 'The Fantastiks' at the Jerry Orbach theater. We sat in the front row for this one in a tiny theater (I almost tripped one of the actors they were so close). This is an old fashioned musical with very simple staging and a bittersweet story of love and redemption…with lovely music. Surely you recall"…..try to remember that time in september…." A delightful production and evening.
Saturday after loading up on bagels I walked and rode the subway to Greenwich Village to visit my favorite tea shop in the world. McNulty's is run by two Chinese gentlemen with Brooklyn accents and smells of tea and coffee and world long gone.
I then visited the American Folk Art show which was another home run as far as pots go. Everything I liked seemed to cost $6,000.00 or more…and my tastes are fairly humble!
I'm back home now and hoping to finally get back to my studio…I haven't made a pot since October(!) and I'm full to bursting with ideas!